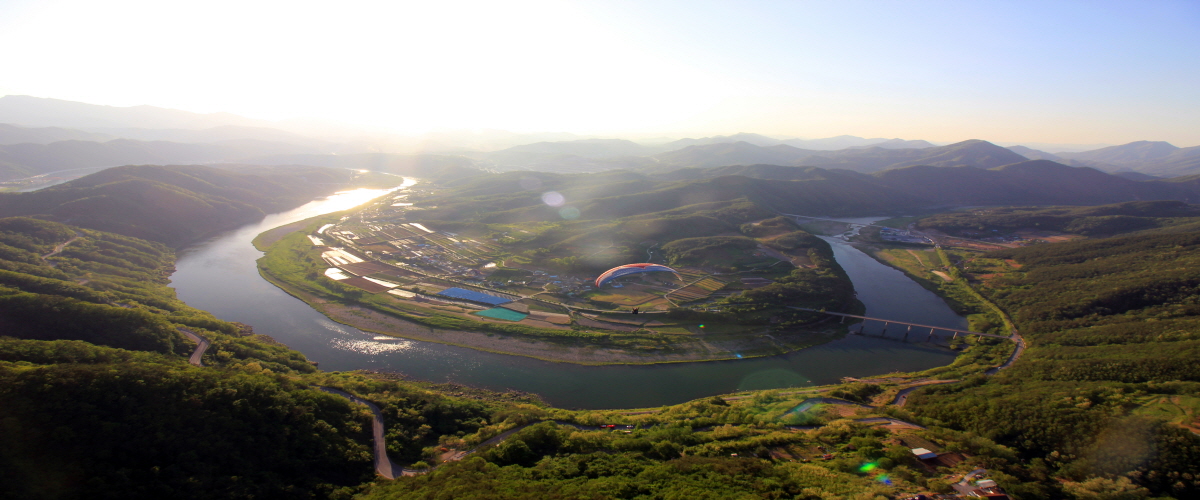 Tandem Flight (Tandem Paragliding) in Danyang
Experience in Danyang with beautiful scenery
- You will meet the best paragliding team over the most peaceful scenery
Escape from daily routine life
- Get a chance to escape and feel the freedom of flying through the sky
Unforgettable excitement!
- The moment you land on the earth after flight, you will realize that you have just made another unforgettable memory.

* Inquiries/ reservation: 043-421-3326

* If you have any inquiries, please contact only by e-mail. We'll reply within 24 hours.

Please send me a kakao talk
   ID : dyparacom
   ID : paravillage
*Special points
1. Selected as the best safety company for MBN boradcaters(safety wear, safety video traning)
2. All In One(paragliding+resort+ATV+observatory all in one place)
3. The only private gliding and landing fied in Korea, parking lot(Over 5,000 pyeong)
4. Safety officer who was previously a fireman
5. Won the Best Innovation Brand Award in 2014
6. TV appearance including 2016 KBS, 2 Days and 1 Night(Episode with Park Bo Gum)
7. Held two-person tandem paragliding tournament)
8. Held 2018 International tournament(held international tournament for the first time in Asia as a private take-off run)
*Discount
1. ATV 30% discount
2. Clay target shooting 10% discount
3. Rafting 10% discount
4. Janhoe Ferry cruise ship 2.000won/person discount
5. Paravillage resort 20% discount
6. Dream Mountain resort 20% discount
7. Danyang partner restaurant 10% discount or complimentary dish
8. Danyang downtown or Gosu Cave free pickup Page 2(Course and fare information)



Experience flight proedure

For a 2 person paragliding flight, an ecpert pilot and the participant do it as a team, Those who have no knowledge of flight can do it.
#Older than 4 years old, over 14kg can participate!
#However, depending on the weather, the age and weight restrictions for flight may vary slightly.
Address and pick-up
Address
Chungcheongbuk-do, Danyang gun,Gagok-myeon,Dusan-gil 196-52(Sapyeong-ri 246-6)


Pick-up service
Danyang Station - 8:50, 10:40, 11:40, 13:05, 15:20, 16:40
Danyang Bus Terminal - 9:00, 11:00, 12:00, 13:15, 15:40, 16:50
1. Optional
- Filming during paragliding is available and the price is 20,000 won. You can select it as an option on the payment page or you can purchase this option onsite (prices can change onsite).
- We have been providing free pick-up service for your convenience. Pick- up location: Danyang Intercity Bus Terminal Please contact 30 minutes before your arrival and the driver from Danyang Paragliding will assist you. More than two people are free for pick up but if you are the only one and wish for pick-up service, there will be a fee of 10,000won.

(It usually costs about 15,000won from Danyang Intercity Bus Terminal to Danyang Paragliding by taxi.)

We will send you guide via text message with the contact information and a driver when you apply for pick-up service.
2. An insurance policy will be given for all participants. If an accident occurs due to participant's negligence, we can not be responsible for it.
Please follow the instructor's direction.